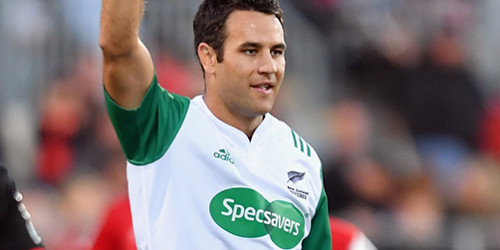 Paul Williams (Taranaki) and Ben O'Keeffe (Wellington) have both been selected to their first ever Rugby World Cup duty as part of the 12-strong referee team.
---
Two other New Zealand referees feature in the 23-person match officials team named today for the tournament in Japan later this year.
Brendon Pickerill (North Harbour) has been selected as an assistant referee in his first Rugby World Cup and specialist television match official (TMO), Ben Skeen, will participate in his third Rugby World Cup.
NZR Chief Rugby Officer Nigel Cass congratulated the four referees selected.
"International refereeing is an elite job and this is an outstanding group of match officials," said Cass.
"To be selected to officiate a Rugby World Cup is the culmination of a lot of hard work and the ability to perform at the highest level. We're really proud to have four New Zealand referees heading to Japan."
NZR National Referee Manager Bryce Lawrence said it was an exciting opportunity for those selected to the Rugby World Cup for the first time.
"It means a lot to Paul, Ben, Brendon and their families, referee clubs and Provincial Unions. All three have been developing and performing well over the past couple of seasons, refereeing top Mitre 10 Cup, Investec Super Rugby and international fixtures, and now they've been rewarded.
"Ben Skeen is a world-class TMO who has been to two Rugby World Cups before and he'll bring some real experience to a high-pressure role.
"New Zealand refereeing is in good shape and we've had a large representation at both Investec Super Rugby and international rugby. They are a tight-knit group who push each other to be better," Lawrence said.
The 48 Rugby World Cup matches will be shared among 12 referees, seven assistant referees and four TMOs.
As well as the four selected referees, New Zealand Rugby will send four additional referees to be part of the overall match official team in Japan.
Cam Stone (Taranaki) will perform Reserve Assistant Referee duties, professional referees Nick Briant (Bay of Plenty) and Mike Fraser (Wellington) are set to be Substitute Controllers and Smudge McNeilage (Auckland) will be a Sideline Manager.
New Zealand Rugby Referees match statistics:
Paul Williams (9 Test matches, 28 Investec Super Rugby games)
Ben O'Keeffe (14 Test Matches, 45 Investec Super Rugby games)
Brendon Pickerill (4 Test Matches, 28 Investec Super Rugby games)
Television Match Official: Ben Skeen (195 TMO appointments, including 54 Test matches)
*Investec Super Rugby games up-to-date as of Round 18 appointments (June 2019).