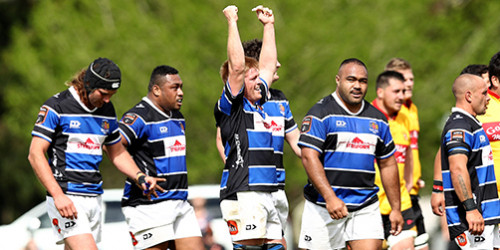 Meads Cup

North Otago v Wanganui
Saturday 26 October, 3.05pm, Oamaru.
Played: 30 (1930-2019)
Won: North Otago 8, Wanganui 22
Last match: Wanganui 27, North Otago 22 (28/9/2019)
North Otago has twice won the Meads Cup with their last title coming back in 2010. They will sense a big opportunity to pick up a third title with a passionate crowd in Oamaru on hand to cheer them on. They will have to overcome Heartland heavyweights Wanganui who are shooting for a record seventh Meads Cup title and won the regular season clash between the teams 27-22.
TEAMS
North Otago: 1: Ralph Darling 2: Hayden Tisdall 3: Melikisua Kolinsau 4: Charles Elton 5: William Kirkwood 6: Jacob Coghlan 7: Marcus Balchin 8: Josh Clark 9: Robbie Smith 10: Michael Williams 11: Howard Packman 12: Taina Tamou 13: Lemi Masoe 14: Adam Johnson 15: Patrick Pati
Reserves: Kelepi Funaki, Michael Mata'afa, Mathew Duff, Manulua Taiti, Anthony Arty, Matthew Vocea, Lachlan Kingan
Wanganui: 1: Kamipeli Latu 2: Roman Tutauha 3: Wiremu Cottrell 4: Sam Madams 5: Josh Lane 6: Campbell Hart 7: Angus Middleton 8: Ezra Meleisea 9: Lindsay Horrocks 10: Dane Whale 11: Shai Wiperi 12: Penijamini Nabanivalu 13: Amos Pogia 14: Vereniki Tikoisolomone 15: Nick Harding
Reserves: Dylan Gallien, Raymond Salu, Samu Kubanavanua, Jamie Hughes, Ethan Robinson, Tyler Rogers-Holden, Troy Brown

FINALS | Here are your Heartland Championship finalists for 2019. Any predictions on who will take out the Meads and Lochore Cups this weekend?#Ours pic.twitter.com/g59R4nl49r— Mitre 10 Cup (@Mitre10Cup) October 21, 2019
Lochore Cup
West Coast v South Canterbury at Greymouth
Sunday 27 October, 2.35pm, Greymouth
Played: 33 (1912-2019)
Won: West Coast 7, South Canterbury 26
Last match: West Coast 27, South Canterbury 24 (12/10/2019)
The anticipation is building in Greymouth as West Coast look to make history and win their first ever Lochore Cup title. The Coasters had the edge over South Canterbury in the regular season and will be looking for a boost from their home fans in what is sure to be a hard-fought match. South Canterbury are no strangers to finals footy though with six finals appearances across the Meads and Lochore Cup since the inception of the Heartland Championship in 2006.

TEAMS

West Coast:

1: Tyler Kearns 2: Troy Tauwhare 3: Daniel Davis 4: Tumama Tu'ulua 5: Sam Liebezeit 6: Joshua Tomlinson 7: Steven Soper 8: Amenatave Takana 9: Jarrod Ferguson 10: Kahu Tamatea 11: Jade Coleman 12: Sione Holani 13: Alex Lane 14: Peter Te Rakau 15: Jesse Pitman-Joass
Reserve: Trent Lawn, Daniel Foord, Logan Winter, Brad Tauwhare, Jared Mitchell, Sean McClure, Nicolas Thomson
South Canterbury: 1: Tokomaata Fakatava 2: Ben Heiwtson 3: Dan Suter 4: Reegan O'Gorman 5: Kieran Coll 6: Anthony Amato 7: Cam Russell 8: Ryan McNabb 9: Theo Davidson 10: William Wright 11: Kalavini Leatagaga 12: Miles Medlicott 13: Shayne Anderson 14: Molitani Latu 15: James Wilson-Bishop
Reserves: Cameron Heckler, Aifala Taelaga, Garrett Casey, Nick Strachan, Siu Kakala, Reilly Cormack, Jared Trevathan
?? TEAM ANNOUNCEMENT | A 26-man NZ Heartland XV has been named for a three-match series next month.
It includes 14 players that will feature in Mitre 10 Heartland Championship Finals this weekend.

FULL TEAM ???? https://t.co/pHivcSEAnD pic.twitter.com/UbT7lZjaSK— Mitre 10 Cup (@Mitre10Cup) October 23, 2019